Quality assurance measurements ensure that the machine generates just as much X-ray as needed to keep radiation exposure as low as possible to achieve good quality imaging and avoid repeated procedures. Quality assurance testing is done for the safety of both patients and staff. It also enables predictive maintenance, and can help extend the lifetime of the machine.
Mammography uses low-energy X-rays (usually around 30 kVp) to examine the human breast for screening and early detection of breast cancer. The range for contrast enhanced mammography is 40-49 kVp.
Some recent advances in mammography include digital mammography, and digital breast tomosynthesis (DBT).
Digital mammography enables better pictures with a lower radiation dose. Breast tomosynthesis, or 3-D mammography, is an advanced form of imaging where multiple images are taken from different angles sometimes mixing different machine settings in a single exposure. Studies have shown that screening with breast tomosynthesis results in improved breast cancer detection rates and fewer "call-backs". Especially suitable for higher density breasts. Radiation doses can be slightly higher than for standard mammography.
How to perform quality assurance testing
Different practices apply depending on professional role (medical physicist/service engineer), where you work (hospital/service organization/manufacturer), and geography.
Typical example of common measurements
Dose, time, pulse characteristics, kVp, and sometimes Half Value Layer (HVL). Average Glandular Dose (AGD)/Mean Glandular Dose (MGD), absorbed dose to patient are also common parameters (calculation based on kV, Dose and HVL). A physicist may in addition perform constancy testing, and check mAs/dose linearity, and a service engineer may check mAs invasively on the machine.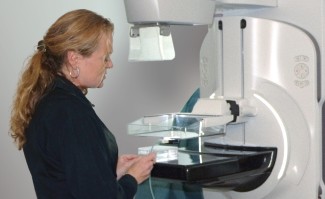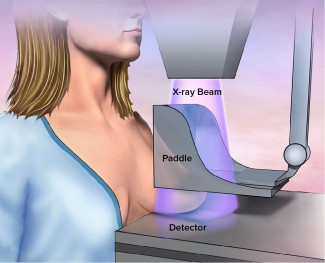 Supported parameters

kVp, including waveform plot (MAM sensor < 40 kVp, R/F sensor > 40 kVp)
mAs and mA (mAs sensor option)
Dose, including waveform plot (MAM sensor)
Dose rate including waveform plot (MAM sensor)
HVL (MAM sensor)
Time (MAM sensor)
Pulse characteristics including pulse frequency and dose per pulse (R/F sensor)
Total Filtration (TF) (MAM sensor)

Additional options

Grayscale calibration of medical monitors (Light sensor)
Light field intensity and contrast measurements of medical monitors (Light sensor)
X-ray field vs light field position (DXR+)
Tube leakage (Survey sensor)
Measure with RaySafe X2 MAM sensor
Turn on Base Unit, and connect the sensor.
The X2 MAM sensor can measure dose and HVL for all anode/filter combinations without changing any settings, including exposures that combine different anode/filter combinations and machine settings in the same sequence. How the sensor is placed depends on the machine, and on local recommendations.
Expose.
Read result from Base Unit. All parameters listed above for this sensor type are gained within the same exposure. For kVp measurements, select your anode/filter combination in the sensor settings on the Base Unit.
For comprehensive analysis use the RaySafe View software.

Best practices for quality assurance testing
Quality assurance testing should be done according to local guidelines, national or international recognized standards, and manufacturer recommendations. Some examples of standards are AAPM (the US), IEC 60601-2-43 to IEC 60601-2-65, 61223-2 (constancy testing), and 61223-3 (acceptance testing).
A phantom can be used to simulate the body of a patient during an exposure, enabling authentic measurements of greyscale, resolution etc in order to receive images of good quality during a real diagnostic procedure.
To support your measurements, you can use the RaySafe Excel template.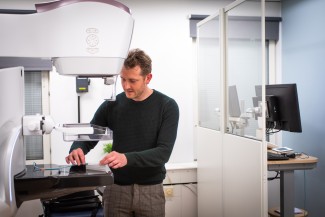 The history of mammography
The history of mammography began in 1913, when the German surgeon, Albert Salomon studied breast structure and tumors in deceased women using X-rays. However, it was not until 1949 X-ray technology attracted interest via Raul Leborgne who was pioneering in improving image quality for the specific purpose of examining breast tissue. In 1965, Charles Gross, from Strasbourg, France, developed the first unit dedicated to mammography, and diagnosis of breast diseases.
In 1970, the start of the modern age, high definition intensifying screens and mammography films, obtain great success in the reduction of radiation levels.
In 2000 equipment for direct digital mammographic image acquisition was introduced to the market. Such a machine includes an X-ray generator similar to that of the conventional system. The great innovation lies in a computerized control unit (with automated quality control) and the replacement of the screen/film system by a highly differentiated electronic detector that is effective in X-ray beam absorption.