EuroSafe Imaging Campaign Poster
EuroSafe Imaging Campaign Poster
June 20, 2014
Unfors RaySafe's contribution to the EuroSafe Imaging Campaign
Unfors RaySafe strongly supports the ESR's EuroSafe Imaging Campaign in its aim to raise awareness about the importance of radiation safety across Europe.
Along with the official launch of the EuroSafe Imaging Campaign, more than 40 supporting partners from healthcare institutions and industry presented their ideas about radiation safety in form of scientific posters at the ECR 2014 in Vienna.
Unfors RaySafe presented its holistic approach to radiation safety for establishing a better radiation safety culture wherever technicians, medical staff and patients encounter X-ray radiation.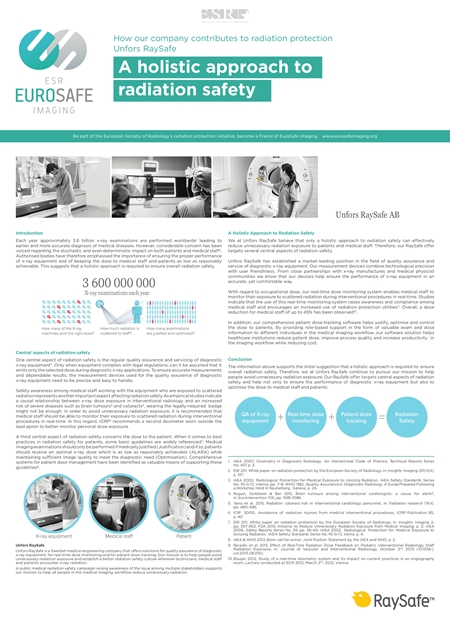 For receiving the poster in high resolution, please contact: Izabella.dantas@raysafe.com
For more information and for supporting the ESR's EuroSafe Imaging Campaign click here.